Curb Appeal and the Art of the Sale
The number one thing to consider when selling your home?  Real Estate experts agree, curb appeal makes the difference between a house that sells and one that sits on the market.  First impressions are everything, and you can only make them once.  When potential buyers pull up to your house you want their first thought to be "I could see myself being at home here."  That thought happens before they've even walked through the front door.
"I could see myself being at home here."
High impact landscaping creates a dynamic experience and a lasting impression.  Remember, high impact does not have to mean drastic or expensive.  High impact landscaping takes the existing features of your home's exterior and plays them to their best advantage.  Investing in your home's exterior will increase your selling power without breaking the bank.  Elm Landscaping is here to help you flip you home fast with these simple tips.
So how do you boost your home's curb appeal?
Start with your gallery.  According to the National Realtors Association, 63% of buyers will drop everything to view a home that they like online.  Put your home in the spot light and make sure you show off its best angles. Surprisingly, overcast days are the best to capture your home without adding harsh over exposure to the images.  In your photographs be sure to highlight the maintained walkway and colourful garden.
Play up the colour.  A little goes a long way when it comes to your floral boxes and shrubs.  Use a few inches of dark mulch in the base of your planters and garden to give your plants a boost.  Make sure your planters are maintained and evenly spaced to create symmetry.  If you're playing mostly with greenery and shrubs, keep them clean and pruned.
If you don't have the time or money to invest in a fully planted garden, you can add a container garden to add some colour for less.  These are a great option for smaller spaces as well as you can customize the number and size of the planters.
Have an existing garden that's looking a little tired? Refresh the trim by cleaning up or replacing the rock trim.  Adding a fresh trim will brighten up your plants and give an instant lift to your yard.
Let in the light.  Just because the sun goes down doesn't mean that your yard needs to stop shining.  Installing exterior lighting along your walkway or garden makes your home seem welcoming any time of day or night.  The real estate game moves quickly, and you never know when it's going to be show time.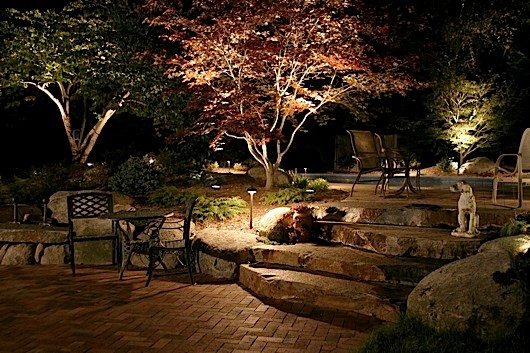 No matter the size of the project or the budget, Elm Landscaping has a solution to sell your home. Call today and you will be one step closer to putting that SOLD sign on your house.