Starting a landscaping project can be a big investment and increase the value of your home. We are proud to say our customers can come to us with all of their outdoor needs. Our finishing touches are the stand out feature of every complete project. We always finish our projects on time and on budget because we respect our clients' time and money.
Interlocking & Retaining Walls
Masonry & Natural Stone
Carpentry- Fences, Decks, Pergolas & Sheds
Lighting
Irrigation
Interlocking & Retaining Walls
Precast pavers and wall systems can create a very attractive look with the many different products available. Whether you want a new driveway, patio or pathway, our professional staff will build it to the right specifications so that you will get many years of enjoyment out of it.
Masonry & Natural Stone
Stone work, whether it is dry lay or set in mortar, our masons can create distinctive entrances, pathways, patios, fire places or whatever you can imagine that will stand the test of time.
Carpentry - Fences, Decks, Pergolas & Sheds
Transport your indoor living to outdoor fun with affordable, luxurious woodwork enclosures and decks custom made just for you. We have skilled carpenters on staff that can create anything with wood.
Lighting
Bring your yard to life at night and get more use out of your outdoor space. Accent high traffic walkways, gardens and stairs with funky displays or standard lighting fare. Nightscapes are perfect for year round entertainment and festivities. Elegance and security combine in this understated special feature.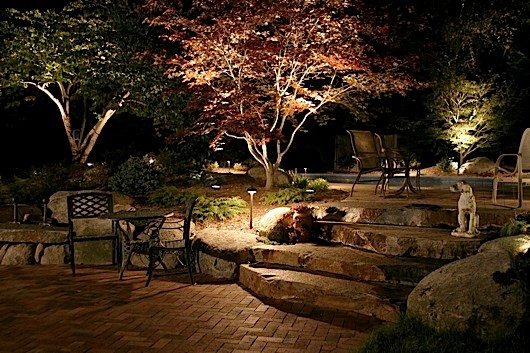 Irrigation
An important part of any landscape is making sure that plants and lawns get the right amount of water to keep your landscape looking its best at all times, even during a drought. A properly installed irrigation system will be invisible to the eye and will distribute the right amount of water for each area of your landscape without any dry areas.